Keeping Your Home Safe And Secure With ProVia™ And Accent Southwest Storm Doors For Albuquerque and Santa Fe.
Storm Doors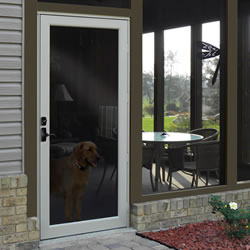 You'll quickly discover that our ProVia™ Storm Doors are anything but ordinary. Every door is individually customized to the highest standards for homeowners who appreciate impeccable, uncompromising quality. Plus, our ProVia™ storm doors are backed by a Lifetime Limited Transferable Warranty.
Produced using 20% thicker aluminum than consumer-grade storm doors, our ProVia™ storm doors are professional grade… durable, secure and energy efficient, with tempered safety glass in every door.
Santa Fe and Albuquerque homeowners can choose from five different Designer Series of doors. Each door comes with a variety of designs to fit any style of home, from traditional and contemporary to southwest and décor, and a variety of hardware, designer glass and accessory options. Features and options include a 1″ throw deadbolt, day latch, 16 colors, double doors, tempered glass and screen panels.
From steel doors to screen doors Accent Southwest carries a wide variety of options for entry door and screen doors in Santa Fe and Albuquerque. The ProVia™ Legacy Steel Security Door is a strong barrier, while our DuraGuard Storm Doors feature tough, non-removable stainless steel screening, keeping your home safe and secure.
DuraGuard is exactly what you need if you're concerned about keeping your small children and pets safely inside. Select one of our doors with heavy-duty non-removable stainless steel screening.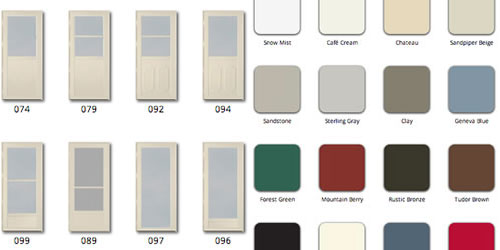 And, to take the guesswork out of choosing the right door design, please check out our ProVia™ Studio…a unique system that lets you configure your new door exactly the way you want it…and see just what it will look like.
To schedule your FREE, no-obligation estimate with one of our qualified design consultants, please give us a call today at: 505-797-7303.